£

445.00 –

£

525.00 incl VAT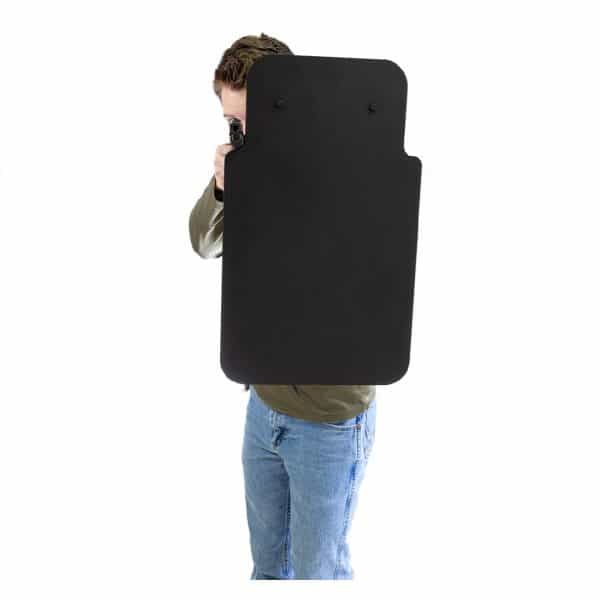 In stock
Hardcore Defense Alpha Shield
£445.00 – £525.00 incl VAT
The Alpha Shield™ is Hardcore Defense's workhorse ballistic shield, designed for both law enforcement and civilian users looking for an exceptionally tough ballistic shield at a great price.  Whether stored in the back of your patrol car, at home, or in the office or classroom, rest assured that the Alpha Shield™ will be there to protect you or your loved ones when needed.
Specifications and Features:
NIJ Level IIIA

9 mm 124 grain full metal jacket at 1400 fps
.44 Magnum 240 grain LSWC at 1400 fps
Also stops lesser threat rounds including .357 Magnum, .40 S&W, and .45 ACP.

Proprietary military-grade ballistic steel provides unrivaled edge hit and multi-hit performance.
Grade 9 bolts can withstand full power strikes directly on the handle bolts.
Cutouts on both sides up top for ambidextrous use
No shelf life limitations.  No storage limitations.
15″ x 25″, 14 lbs
Interested in some real world testing of our products by independent reviewers?  Check out the following Live Fire Videos on Youtube:
Manufacturer's comment regarding the above videos:  the Alpha Shield was designed from the start to stop handgun cartridges only.  It generally stops big, blunt, and lower velocity projectiles well.  High velocity centerfire rifle cartridges like those used in assault and hunting rifles will penetrate the shield.  For protection against rifle threats, please consider the Delta Shield or Bravo Shield.