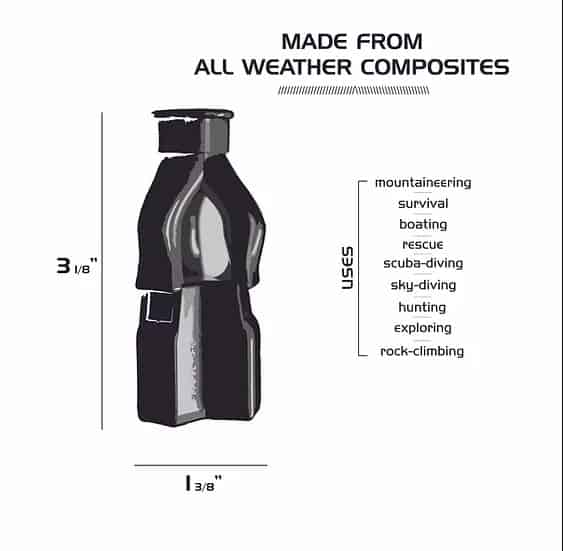 In stock
HyperWhistle
£19.99 incl VAT
In Case of Emergency – Blow here!
With well over 2300 reviews on Amazon, we are rated the Most Efficent, Most Reliable, and Loudest Rescue/Outdoor Whistle in the world. We promise that our product will hold up to any Outdoor Atmosphere you may endure. With Our unique Tri-Frequency design, we configured 3 highly rated whistles into one unit. We hold a reputaion for being engineered and designed in the USA, and also used on US Aircraft Carriers. We supply Professionals all around the world, and including underwater Scuba-Divers.
Hyperwhistle, strives of Being the Premium choice when it comes to Rescue/Outdoor/Survival whistles. That's Why Hundreds of Thousands of Professionals choose our products.
Features:
142+ dB Output
Anti-Microbial Composite, All-Weather Construction
Up to 2 Miles of Usable Range
Patented Design US8925478
Unique Radial Tri-Frequency Design
Naturally Buoyant
Works in All Weather Environments, Including Underwater
Product Videos
For more Wholesale inquiries please visit our Reseller Program
WARNING
The HyperWhistle is extremely loud. Continued use at max output without hearing protection may cause hearing loss.
Use included ear protection and never blow near other's ears.
Note: The Black HyperWhistle is currently out of stock.
Description

Additional information
| | |
| --- | --- |
| Colour | Orange, Midnight Black |